ORANGE KIDS
At OPCC, our kids (infant through 5th grade) experience safe, age-appropriate environments where they learn about Jesus in a creative and relevant way. Many of the lessons include hands-on learning with science experiments and other cool techy stuff. Your kids will love it!
We would love to see you and your family visit our church!
Meet our Orange Kids Directors
Mike and Crystal Bernico joined the Orange Park Christian Church staff in 2018. They have a very deep love and passion for teaching children of all ages the stories of the Bible and the everlasting love that Christ has for each of them. They both have been working with children in paid and volunteer positions for several years. Outside of church, Mike is an electrical engineer and incorporates his love for science into the children's program whenever he can.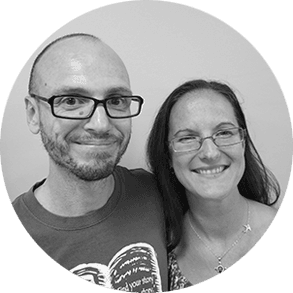 STUDENTS
Our student ministry is made up of middle and high school students who come together each week to share life together and grow in their faith. Our desire is to equip students with the tools they need to make good choices in their day-to-day lives. We have several volunteer teachers and mentors who all have years of experience working with teenagers.
Sundays at 9:00am
Our students come together every Sunday to take a closer look at their faith and learn what God has in store for them. Sunday mornings are meant to dive a little deeper and all students are encouraged to bring their Bible and be ready to learn.
Wednesdays at 6:30pm
This gathering will be different from Sundays. Students will be encouraged to share about themselves, their struggles, and offer advice to their peers. Our desire is to make Wednesday nights more relational and allow our students to form friendships as we discuss the Bible and pray together.
Got Questions?
We'd love to hear from you! If you have any questions about our kid or student ministries, please fill out the form below and get in touch with us!