Kids Ministry
At OPCC, our kids (infant through 5th grade) experience safe, age-appropriate environments where they learn about Jesus in a creative and relevant way.
We would love to see you and your family visit our church.
Your first visit
Here's what to expect when visiting our church for the first time:
First, come to our foyer which you can find by following the signs or the crowd. There, we will meet your family and an usher will escort your family to where our kids check-in station is located. Once your child is checked into our system, one of our volunteers will lead your child to their age-appropriate area. All of our volunteers have been background checked and regularly receive training in order to best care for your child.
Upon checking in for the first time, we will ask for the following personal information (NOTE: We value your privacy and will not share this information with anyone):
Parent/guardian name(s)
Child's name
Child's birthdate
Home address
Phone number
Any special instructions (allergies, special needs) for your children
How check-in works
Before Service: You can check-in your child at the appropriate station in our Fellowship Hall. After finding your child's name in the database (or adding it for the first time), you and your child will be given name tags that are exclusive to your family and your visit. Your child will need to wear the name tag portion while you hold on to the designated identification number assigned to your child that day.
After Service: After the service is complete, you will return to the child check-in station and show your tag in order for your child to be released back to you.
During Service: In the event that we need to contact you during the service, your child's identification number will appear on the screen. We ask that you exit the auditorium immediately and look for a staff member or volunteer who will direct you to where your child is located.
Your child, our church and you
We know that our time with our children is limited, and we have to make the most of every opportunity! So we as a church want to partner with parents to influence the next generation. When the light of the church (yellow) and the heart of the home (red) combine influences, we begin to think ORANGE, and a greater impact will be made in the lives of our children.
When a child transitions into middle school, we want that child to have experienced and own three basic truths modeled by Jesus in Luke 2:52,
"And Jesus grew in wisdom and stature, and in favor with God and man."
1. I need to make the wise choice.
2. I can trust God no matter what.
3. I should treat others the way I want to be treated.
So that's the foundation, but we will be doing more than teaching three basic truths. We will also take kids into the heart of God's Big Story. The story of God reveals the character of God.
Meet our Kid's Directors
Mike and Crystal Bernico joined the Orange Park Christian Church staff in 2018 as the Directors of Kid's Ministry. Mike and Crystal have a very deep love and passion for teaching children of all ages the stories of the Bible and the everlasting Love that Christ has for each of them.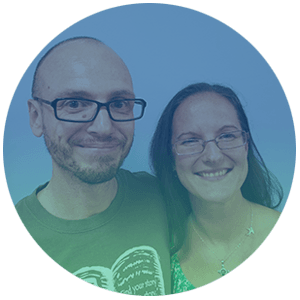 Got questions?
If you have further questions concerning our Kids Church, be sure to contact us below!