ORANGE KIDS
At OPCC, our kids (infant through 5th grade) experience safe, age-appropriate environments where they learn about Jesus in a creative and relevant way. Most of our lessons include hands-on learning, games, crafts, and snacks. Your kids will love it!
We would love to have you and your family visit our church!
Meet our Orange Kids Director
Lisa Joiner joined the Orange Park Christian Church staff in 2020. She has decades of experience working within and leading children's programs. Lisa has a deep love for the Bible and for nature and incorporates these into her lessons and themes each week. Outside of her work in the church, Lisa enjoys gardening, bird watching, and spending time with her family.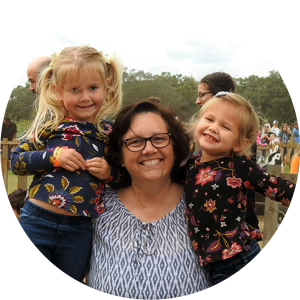 ---
The Check-In Process
The safety of the children in our care is very important to us. Because of that, we have certain precautions and procedures in place to help ensure the safest environment possible for your child. Here is what you can expect on Sunday mornings when checking in your children:
When you arrive at our church, look for signs on our building that will point you to where our kids/nursery program is located.
If you are a first-time guest, the check-in process will be a little longer. You will need to fill out a form that details information about your child such as allergies, emergency contact information, etc... After this first-time process, you will not need to fill out this form again unless you are updating information.
At the check-in station, a volunteer will print out a name tag and code for your child and you will be given a copy as well. Please keep this tag with you because you will need it when checking your child out of our program that day.
Once service begins, we lock all of our exterior doors. To gain entry, you will need to press the button located outside of our entrance. This is connected to a video camera that our volunteers monitor. If you need to check-out your child early, you will need to show your tag to the camera.
All of our teachers and volunteers are background checked and undergo continuous training to ensure that your child is being cared for physically and spiritually.
Got Questions?
We'd love to hear from you! If you have any questions about our kid's ministry, please fill out the form below and get in touch with us!